With the service life of a building from 50-to-100 years, today's constructions will always affect the generations of tomorrow. Wicona shows how aluminium building systems should be part of the picture.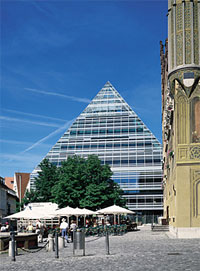 In this context, Wicona addresses three main questions:
What do sustainable constructions using aluminium-glass facades look like?


Which factors affect energy-saving and user comfort?

What requirements can be derived from this for the products and concepts of the companies involved?
"Building Visions" is oriented toward solid and everyday, economical solutions, continually taking into consideration all of the life phases of a building - from planning and construction through dismantling.
Whoever chooses Wicona products will not only profit from technically mature solutions, but from future-oriented product development with an eye to the generations of tomorrow.