Organizers call it the most important event of the European building industry. This is BAU 2009 week - and Wicona is in Munich with the latest in energy-saving aluminium building systems products.
Every two years, BAU brings to Munich all the market leaders in the building industry. The week-long exhibition, held this year from January 12-17 at the Munich Trade Fair Center, boasts events related to key and current themes, and is structured according to building materials and topical areas.
The Wicona brand is one of Hydro's three global aluminium building systems brands, together with Domal and Technal. With its historical roots in Germany, Wicona is at home in Munich.
But it is not the only Hydro brand present at BAU 2009. This year, several Technal products are on display at the Wicona stand.
Technal, too
Technal is commencing marketing activities in Germany this year with a range of products tailored to the domestic market. This includes guardrail and separating wall systems made of aluminium.
"Experts have established that approximately 80 percent of the installed guardrails in Germany would not pass a static test. Our systems ensure the necessary quality and safety," says Bernd Hochstädter, who is organizing Technal sales in Germany.
"The Technal program constitutes a good addition to the Wicona assortment in Germany. For the metal builder, the fact that we are entering the German market also means the possibility of expanding his own field of activity with a strong brand with interesting products."
Wicona innovations
Wicona is presenting a number of new products and services to current and potential customers at BAU 2009. The brand's theme for the show is Reduced Complexity.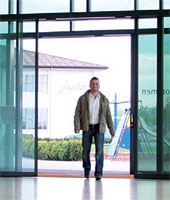 One of the products is the innovative and patented low-E coating solution. The coating has just passed the Qualicoat tests required for professional marketing, thus opening the way for the material to be applied unrestrictedly for exterior use on buildings.
Thanks to the low-E coating, the U value of a construction can be lowered by up to 30 percent without making constructional changes to the aluminium profile. This innovative surface technology also has the potential to be applied beyond the construction sector.
In addition, Wicona and Kaba-Gilgen are presenting - for the first time - their jointly developed WICSTYLE 65ED thermally insulated automatic sliding door.
Its construction is based on Wicona's WICSTYLE 65 aluminium profile, whose technical characteristics were modified to meet the requirements of the Kaba automatic door. The result? The door protects the building against excessive energy loss by means of the thermal-insulating properties of the profiles, and contributes to enhancing the overall energy balance of the building.
Some of the other innovations on display include the Wicona Finder internet platform and Wicona Unisys, a modular concept that takes just a few coordinated components and makes it possible to implement creative ideas for façades, windows and doors.