BAU 2015: Curtain walling
By embarking on Closed Cavity Façade technology (CCF) as the premier aluminium system house, WICONA makes its mark with the integration of house technology and façade construction. The first WICONA CCF façade is at present being installed on a building of AXA Winterthur-Versicherungen in Zurich, in conjunction with façade construction specialist App (Leutkirch). The innovation is being applied to house technology for dry air and its distribution within the building, as well as the closed cavity of the double skin façade.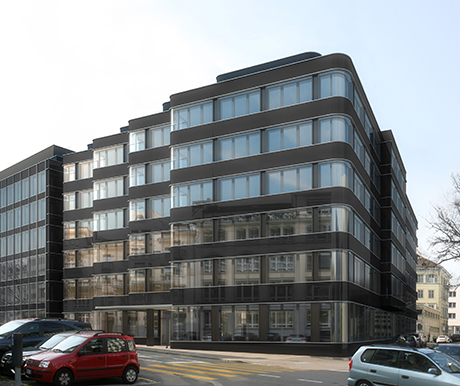 Max Radt, Sales Director at WICONA/Sapa Building Systems says: "A particular challenge is the regulation of the pressure conditions required in the various parts of the building. Here, WICONA has entered a completely new field and is also working with partners from the compressed air industry for the site in Zurich." Close examination of the materials which come in to contact with the dry air in the façade cavity is needed. Thus seals, sealing material, surfaces, paints, solar protection etc. have all been examined for their interaction with the dry air, their durability and their service life. "The increased requirements on the tightness of the cavity require adaptations in production of the units and the installation by facade specialist App", says Max Radt. The AXA building in Zurich, with approximately 5000 m² CCF area is due for completion in 2015. By entering the field of CCF technology, WICONA aims to penetrate the highly specialised market segment, which is currently mainly in Switzerland and Germany, with ambitious items with the potential to make an impact on the global markets.